rev. 10.06.2006
The Art and Science of Fire Investigation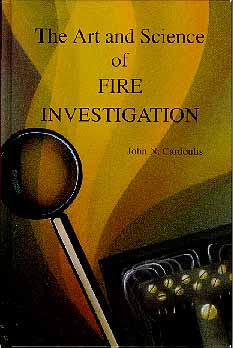 Title: The Art and Science of Fire Investigation
Author: John N. Cardoulis
Published: 1990
Breakwater, St. John's, New Foundland, Canada
ISBN: 1-55081-002-2
Format: 15,8 x 23,6 cm
Pages: 264

This book, originated in Canada, is a compact overview of fire investigation in it's entity, sometimes there is a lack of in depth discussion of single subjects, but this makes this publication compact and very useful as short reference for the fire investigator. More than one third of the book consists of the large glossary and diverse tables. A speciality of this publication is the chapter dealing with marine fire investigation which is unique in the fire investigation literature.

This book has an excellent price/performance ratio and is certainly worth reading it. It is easy to read and understand.

This books may not be obtained from the original publisher. It is distributed by the Canadian Association of Fire Chiefs (CAFC), Ottawa, Ontario, Canada.

About the author
John N. Cardoulis started as fire suppressionist in 1944, and rose to the rank of Fire Chief in 1953. In 1955, he was appointed Fire Marshal and Fire Protection Engineer of a major overseas command in the United States Air Force. In 1959 he was awarded the United States Exceptional Civil Service Medal for outstanding Fire Engineering Services and reduction of fire loss frequencies by the Secretary of the United States Air Force. John also served as Director and Chief Instructor of a US Air Force Command Firefighting Training School for eight years. In 1978 he was appointed Fire Commissioner for the Province of New Foundland and Labrador. He retired in 1986.

John Cardoulis was a founding member of the New Foundland and Labrador Chapter of the International Association of Arson Investigators and served as President. He was also a director of the Canadian Association of Fire Investigators. Prior to his retirement he was a long-standing member of the National Fire Protection Association, Quincy, Mass., The Society of Fire Protection Engineers, of Boston, Mass., The Institution of Fire Engineers of England, and the International Association of Arson Investigators.

Ingenieurbüro Frank Markmann
Gottfried-Blum-Weg 4
D-88639 Wald
Germany

Phone: +49-(0)-7578-933141
Fax: (on request)
Return to homepage
---
Fire Investigation in Germany / webmaster / revised 10.06.2006