rev. 04.07.2010
Electric Arcing - Lichtbogen
---
Arcing traces of a high-voltage high-power cable


Arcing traces outside the vertical mounted metal cable conduit

Lichtbogenspuren außerhalb eines vertikal angebrachten Metallkabelkanals.



The cause
The fixation screws of the cable conduit hood have been too long and so they have been driven into the shielded high-voltage high-power cable as the hood was closed. The picture shows an undamaged part of the cable with the small piercing hole on top and at the left a srew from which the shaft is completely molten away, a screw with a small copper trace on its selfcutting end and the screw that was removed from the shown cable part.
This fault took a small town in southern Germany off the grid for several hours.

Die Ursache
Die Befestigungsschrauben des Kabelkanaldeckels waren zu lang, weshalb sie beim Schließen des Kabelkanaldeckels in das abgeschirmte Hochspannungsstarkstromkabel eingeschraubt wurden. Das Bild zeigt ein unbeschädigtes Kabelstück mit dem Einschraubloch auf der Oberseite, links eine Befestigungsschraube, deren Schaft fast vollständig abgeschmolzen ist, in der Mitte eine Schraube mit einer kleinen Kupferantragung an der Selbstschneidefläche und die Schraube, die aus dem dargestellten Kabelstück stammt.
Dieser Fehler verursachte in einer süddeutschen Kleinstadt einen mehrstündigen Stromausfall.

---
---
Arcing discovered before it turned to a fire
Lichtbogen entdeckt bevor ein Brand entstand

Cable where arcing started due to an isolation defect, frontview.

Leitungsstück an welchen ein Lichtbogen in Folge eines Isolationsdefekts entstanden ist. Vorderansicht.
---
---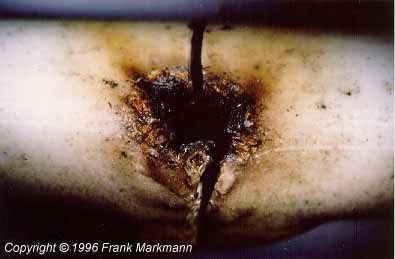 Same cable, rear view.

Das selbe Leitungsstück, Rückansicht.
---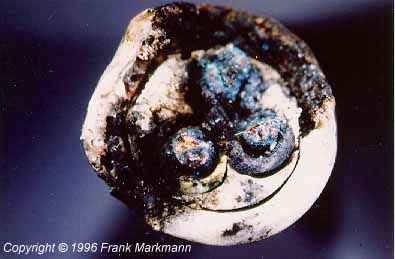 Same cable, cut left side.

Das selbe Leitungsstück, Schnitt linke Seite.
---

Same cable, cut right side.

Das selbe Leitungsstück, Schnitt rechte Seite.
---
---
Copper-Aluminium-Alloy
Kupfer-Aluminiumlegierung

Typical appearance of a copper aluminium alloy. This is regulary not the result of an arc, but of the contact of heated copper and molten aluminium, where the meltingpoint of this alloy is lower than the melting point of aluminium. The color of the alloy is lighter than that of copper and reaches from silver to yellow.

Die typische Erscheinungsform einer Kupfer-Aluminiumlegierung. Diese ist üblicherweise nicht das Ergebnis eines Lichtbogens, sondern sie entsteht beim Kontakt von erhitztem Kupfer mit geschmolzenem Aluminium. Der Schmelzpunkt dieser Legierung liegt unterhalb des Schmelzpunktes von Aluminium. Die Farbe ist regelmäßig heller als die von Kupfer und reicht von silber bis gelb.
---
---
Erosion crater resulting from arcing
Erosionskrater als Resultat eines Lichtbogens

The depth and form of this crater is significant for a longer duration of the originating arc, which was of a medium to low intensity.

Die Tiefe und Form des Kraters weist auf einen Lichtbogen mittlerer bis geringer Intensität hin, der über einen längeren Zeitraum bestanden hat.
---
---

The depth and form of the crater is significant for a medium duration of the originating arc, which was of a medium to high intensity.

Die Tiefe umd Form des Kraters weist auf einen Lichtbogen mittlerer bis hoher Intensität hin, der über einen mittleren Zeitraum bestanden hat.
---
---
A possible Pitfall
Ein möglicher Stolperstein

At first glance this little crater looks much like an erosion crater that results from arcing. Due to the real dimension of the crater it looks like even by using a magnifying glass.

Auf den ersten Blick sieht dieser kleine Krater wie das Resultat einer Lichtbogenerosion aus. Aufgrund seiner realen Größe bleibt dieser Anschein sogar bei der Betrachtung mit einer Lupe erhalten.
---

Already other lighting conditions are revealing that suspicion of the cause is necessary, as there is someting on the upper left side and on the lower right side, that does not fit into the common image of arcing erosion craters.

Bereits eine andere Beleuchtung läßt Zweifel an einer Entstehung des Kraters durch einen Lichtbogen aufkommen, da auf der oberen linken Seite und der unteren rechten Seite des Kraters etwas zu erkennen ist, daß nicht in das allgemeine Bild eines Lichtbogenerosionskraters paßt.
---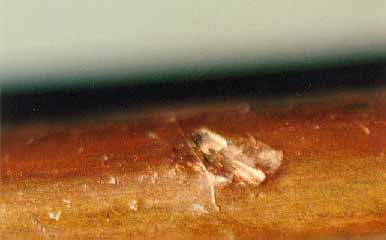 A repositioning and further enlargement shows that the crater resultet from mechanical force. The knowledge of the conditions under which the wire was uncovered, makes clear that the crater resulted from a short contact to fast moving chainsaw tooth.

Eine Lageänderung und die weitere Vergrößerung zeigen deutlich, daß der Krater durch mechanische Gewalteinwirkung entstanden ist. Das Wissen darum auf welche Art der Draht freigelegt wurde, erklärt die Entstehung dieser Beschädigung aus den kurzen Kontakt des Drahtes mit einem sich schnell bewegenden Sägezahn einer Kettensäge.
---
---
Hidden Arcing Traces
Versteckte Lichtbogenerosionsspuren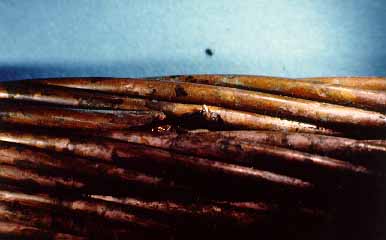 This photo shows hidden arcing traces on the inner side of a multi-wire-cable, that may be overseen easyly.

Dieses Foto zeigt auf der Innenseite eines Kabels aus mehreren Leitern versteckt liegende Lichtbogenerosionsspuren, die bei einer oberflächlichen Begutachtung des Kabels leicht übersehen werden können.
---
---
Remains of a hard days work
Überreste nach einem harten Arbeitstag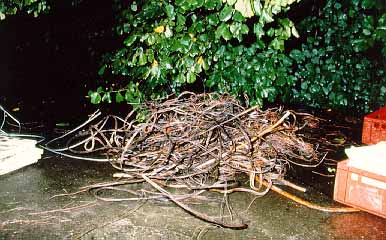 ---
To be continued.
Ingenieurbüro Frank Markmann
Gottfried-Blum-Weg 4
D-88639 Wald
Germany

Phone: +49-(0)-7578-933141
Fax: (on request)
---
Fire Investigation in Germany / webmaster / revised 04.07.2010