rev. 15.07.98
Auto ignition - Selbstentzündung
---
Autoignition of a hay stock
Selbstentzündung eines Heustocks

Typical fire pocket. Diameter ca. 1 meter.

Ein typischer Glutkessel. Durchmesser ca. 1 Meter.
---

Location of the fire pocket typical about one meter above ground level.

Die Lage des Glutkessels ist typischerweise ca. einen Meter über dem Boden.
---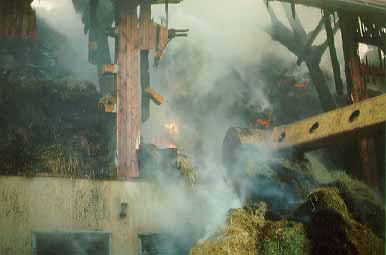 Clearing the fire ground.

Abräumen des Heustocks.
---
To be continued.
Ingenieurbüro Frank Markmann
Gottfried-Blum-Weg 4
D-88639 Wald
Germany

Phone: +49-(0)-7578-933141
Fax: (on request)
---
Fire Investigation in Germany / webmaster / revised 15.07.1998