rev. 08.03.2009
Arson - Brandstiftung - Incendie volontaire
---
Typical pouring traces of accelerator liquid.
Typische Spuren verschütteter Beschleunigerflüssigkeit
Traces typiques d'un liquide accélérateur répandu
---
Traces of a welding-torch
Spuren eines Schweißbrenners
Traces d'un appareil de soudage

This hole was burned through a steel door just for fun by the culprit, using a stolen welding-torch and behind this door cloth-bales have been stored, which caught fire. The complete industrial building was lost due to this fire.

Dieses Loch wurde vom Täter nur zum Vergnügen mittels eines gestohlenen Schweißgeräts in ein Stahltor gebrannt, hinter dem Stahltor waren Stoffballen gelagert, die Feuer gefangen haben. Das Industriegebäude wurde durch diesen Brand völlig zerstört.

Un malfaiteur a brûlé ce trou à travers d'un portail d'acier, seulement pour s'amuser en utilisant un appareil de soudage volé en avant, derrière ce portail des balles de tissu ont &eacute:té stockés qui ont pris feu. Tout le bâtiment industriel a été détruit par cet incendie.
---
Traces of unburned accelerator liquid
Spuren unverbrannter Beschleinigerfüssigkeit
Traces d'un liquide accélérateur imbrûlé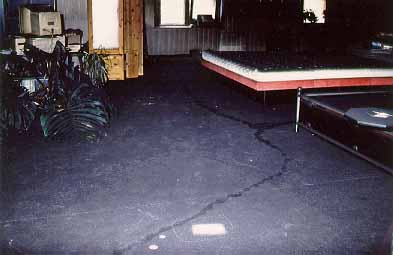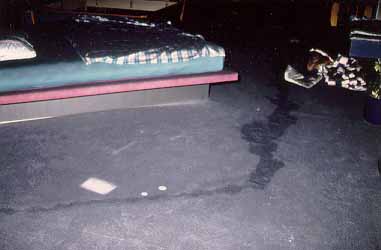 Traces of unburned accelerator liquid on a soot covered carpet. The white spots on the carpet mark the position of the accelerator liquid containing canister and two caps. (Original colour of the carpet.)

Spuren einer unverbrannten Beschleunigerflüssigkeit auf einem rußbedeckten Teppich. Die weißen Flecken auf dem Teppich markieren die Postion des Kanisters, der die Beschleunigerflüssigkeit enthielt und zweier Verschlußkappen. (Ursprüngliche Farbe des Teppichs)

---
---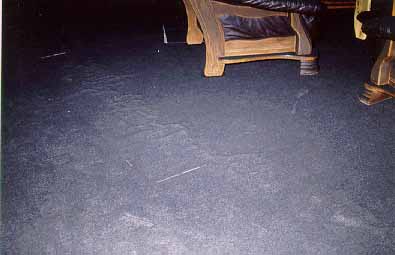 ---
External view


---
To be continued.
Ingenieurbüro Frank Markmann
Gottfried-Blum-Weg 4
D-88639 Wald
Germany

Phone: +49-(0)-7578-933141
Fax: (on request)
---
Fire Investigation in Germany / webmaster / revised 08.03.2009