rev. 15.07.98
Metz Mecablitz 45 CT(CL)-1
Metz produces flashlights of an outstanding quality, which are wide spread around the world. The MB 45 CL-1 is a mid to low priced rail mounted flashlight wich covers most of the situations found on fire places.

We use a 45 CT-1, which has been replaced by the nearly identical 45 CL-1, for 20 years. The only thing that had to be replaced four years ago has been an NC-accumulator pack. Unobstrusive it serves its duty even under extreme conditions. As shown on the pctures the unit may be mounted on the left or right hand side, as you prefer it.

A extraordinary option is the tele lens, wich may be mounted to its head. It is designed to light scenes taken with a 135 mm tele lens.

The photo below was taken in 1980 from the Palais de Chaillot in direction to the avenue Albert 1er de Monaco at Paris, the night before the departure of the Paris-Dakar Rallye and shows a part of the Parc Fermé of the rallye vehicles. To demonstrate the flashlight tele lens focus I took a 28 mm wideangle lens, so only the center is lit correctly. The diagonal lit stripe seen on the upper left center is the the reflection of the flashs beam due to some fog in the air.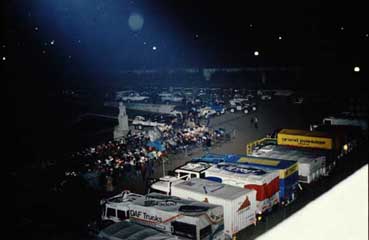 More information on current flashlights is available on the Metz-homepage
Ingenieurbüro Frank Markmann
Gottfried-Blum-Weg 4
D-88639 Wald
Germany


Phone: +49-(0)-7578-933141
Fax: (on request)
Return to previous
Return to homepage
---
Fire Investigation in Germany / webmaster / revised 15.07.1998